You just landed in Madrid and you feel very hungry … Don't feel panic, in Lockers Madrid we give you the best solution: take the opportunity to try the famous Madrid "Patatas Bravas", crispy on the outside, tender on the inside and bathed in a delicious "salsa brava". Here we show you 3 of the best places in Madrid to try them:
1.- Las Bravas (Álvarez Gato, 3 / Pasaje de Matheu, 5 / Espoz y Mina, 13).
Try this delicious delicacy in one of the most mythical taverns in the city and taste its patented recipe in 1960. Rations at 4.25€.
2.- Docamar (Alcalá, 337).
These are probably the best bravas in the city, said for many local people. For  4.20€ you can try a ration with its famous hoy and spicy secret sauce.
3.- Bodega de La Ardosa (Santa Engracia, 70).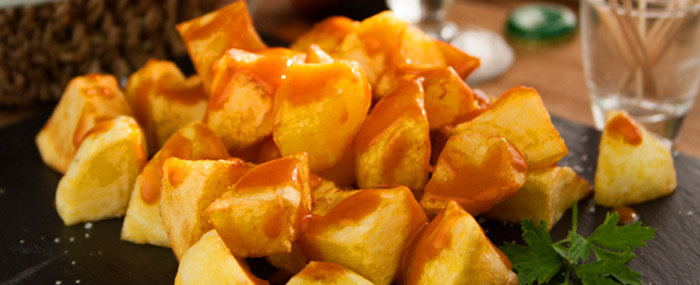 Great variety of tapas and generous portions os bravas for only 3.00€ . Do not miss it.
Bon Appetite!
Lockers Madrid – Keep your luggage save and enjoy the city.